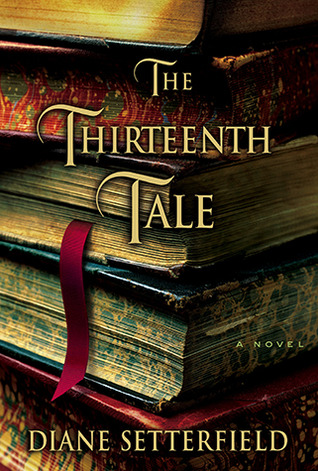 Goodreads Synopsis: Biographer Margaret Lea returns one night to her apartment above her father's antiquarian bookshop. On her steps she finds a letter. It is a hand-written request from one of Britain's most prolific and well-loved novelists. Vida Winter, gravely ill, wants to recount her life story before it is too late, and she wants Margaret to be the one to capture her history. The request takes Margaret by surprise — she doesn't know the author, nor has she read any of Miss Winter's dozens of novels.
Late one night while pondering whether to accept the task of recording Miss Winter's personal story, Margaret begins to read her father's rare copy of Miss Winter's Thirteen Tales of Change and Desperation. She is spellbound by the stories and confused when she realizes the book only contains twelve stories. Where is the thirteenth tale? Intrigued, Margaret agrees to meet Miss Winter and act as her biographer.
As Vida Winter unfolds her story, she shares with Margaret the dark family secrets that she has long kept hidden as she remembers her days at Angelfield, the now burnt-out estate that was her childhood home. Margaret carefully records Miss Winter's account and finds herself more and more deeply immersed in the strange and troubling story.
Both women will have to confront their pasts and the weight of family secrets… and the ghosts that haunt them still.
Author: Diane Setterfield
Pages: 406 pages
My Thoughts
At first I was like this:
Then all of a sudden I was:
There were mysteries within mysteries. Like mysteryception or something. Because I couldn't figure out if Vida was Emmeline or Adeline or who killed who. I knew she was one of the twins but who? I also tried to figure out why Margaret was so important. Why she had to be biographer. I kept reading the book because I had to finish it. The story started to interest me more so I was getting hooked into it like a fish. 
Then suddenly I clicked after Margaret finally realized. I didn't understand how she could've found out about everything after the diary. Like whhaaattt?? How come I didn't know as well, since I'm the reader. Is my mind set different to Margaret's? and yes it is.
So after the realization of everything I was felt:
HOW DID THAT HAPPEN? IS THAT THE REAL TRUTH? COULD IT BE REALLY HER? WHY? HOW? 
All my emotions were like rising with every word. And when Margaret came back to Vida after finding out everything sadness hit me so hard. 😥
I cried like a baby!! The end was near and all I could do was cry and smile at the same time. It was so beautiful. This story is beautiful. I mean it may have took me a few chapters to finally feel something but it worth it 🙂 The beauty of it all is that it incorporated books such as Jane Eyre, Wuthering Heights, Sense of Sensibility etc . into an extraordinary story.  I am so going to watch the movie now !!
"Sometimes when you open the door to the past, what you confront is your destiny."