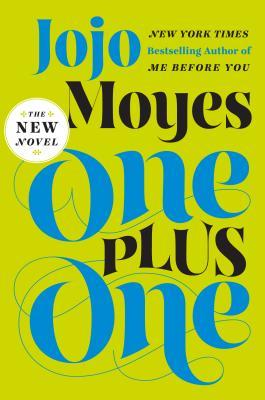 Goodreads synopsis: One single mom. One chaotic family. One quirky stranger. One irresistible love story from the New York Times bestselling author of Me Before You
Suppose your life sucks. A lot. Your husband has done a vanishing act, your teenage stepson is being bullied and your math whiz daughter has a once-in-a-lifetime opportunity that you can't afford to pay for. That's Jess's life in a nutshell—until an unexpected knight-in-shining-armor offers to rescue them. Only Jess's knight turns out to be Geeky Ed, the obnoxious tech millionaire whose vacation home she happens to clean. But Ed has big problems of his own, and driving the dysfunctional family to the Math Olympiad feels like his first unselfish act in ages… maybe ever.
---
Author: Jojo Moyes
Pages: 368 pgs
My Rating: 3/5 stars
---
My Thoughts
To be honest I didn't quite like this book as much as 'Me Before You'. I think I couldn't feel the emotions or the depth of the content sing to me. So this is what I got out of it: a broke as solo mum with a insecured son and genius daughter that falls in love with a rich guy who can't even sort his own shit and supposedly committed a crime. Just before I continue negatively reviewing this book, I just want to let you all know that I do not mean to offend anyone especially the author and those who like/love this book. These are just my own opinions and thoughts to this book.
So back to it, I literally skimmed through probably half of the pages. Only because it felt like a drag and Jess was pretty much annoying me by telling her kids that everything is going to be ok. How can things be ok when your son is getting beaten and bullied in and out of school and the ONLY thing you do is talk to the mum and let her put yourself down? If that was my son I would beat the crap out of the kid AND the mum for not disciplining her child right. Or maybe move out of the area? But I guess it just sometimes cannot be like that. I do understand that Jess does want her kids to feel better. I mean she works 2 jobs and still get the time to look after her kids, that is a strong mother. You hardly get that nowadays especially in New Zealand, where most young parents don't give a shit about their kids.
The storyline was a bit weird. What a coincidence that Ed ends up at that small town? Like uhm thats just weird
On top of that, who literally drops off a family thousands of miles to a competition without wanting something back? Is Ed just too nice? Or maybe hes just one of those rare genuine guys ? Or does it sound familiar? A Prince rescuing a woman in distress? Oh I don't know. At least Ed was not as bad as Jess ex-husband/partner who I freaking hate SO SO SO MUCCCHHH!!. hes a freaking asshole that deserves no one. And actually finding out everything about him, I felt so sorry for Jess. It was one of the saddest parts for me in the book.
I personally think that you're not a true father if you can't be honest to your children in circumstances where you (the parent) are not hurt. Children are vulnerable. They are easy to lie to and if you take that time to LIE to your OWN children don't call yourself a parent especially in this situation between Jess's ex and his children.  And abandoning your child? Now that really pisses me off. Like the FUCK OFF!!.
But anyways before I start going crazy, I did like this book. I liked the geeky parts. I liked the storyline a bit. I liked the lessons I learnt throughout the novel 🙂
"We all make mistakes. Go and take your punishment, then come back and start again."