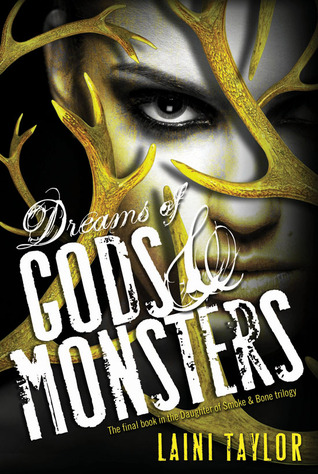 Goodreads synopsis: By way of a staggering deception, Karou has taken control of the chimaera rebellion and is intent on steering its course away from dead-end vengeance. The future rests on her, if there can even be a future for the chimaera in war-ravaged Eretz.
Common enemy, common cause.
When Jael's brutal seraph army trespasses into the human world, the unthinkable becomes essential, and Karou and Akiva must ally their enemy armies against the threat. It is a twisted version of their long-ago dream, and they begin to hope that it might forge a way forward for their people.
And, perhaps, for themselves. Toward a new way of living, and maybe even love.
But there are bigger threats than Jael in the offing. A vicious queen is hunting Akiva, and, in the skies of Eretz … something is happening. Massive stains are spreading like bruises from horizon to horizon; the great winged stormhunters are gathering as if summoned, ceaselessly circling, and a deep sense of wrong pervades the world.
What power can bruise the sky?
From the streets of Rome to the caves of the Kirin and beyond, humans, chimaera and seraphim will fight, strive, love, and die in an epic theater that transcends good and evil, right and wrong, friend and enemy.
At the very barriers of space and time, what do gods and monsters dream of? And does anything else matter?
---
Author: Laini Taylor
Pages: 613 pgs
My Rating: 5/5 stars
---
My Thoughts
I FINALLY GET TO READ THIS AFTER WAITING FOR SO LONG!!! I LOVE THIS SERIES SO MUCH. ❤
What can I say? I fell in love with Karou and Akiva's world. I love Laini's imagination. I got into this series when I was at the library roaming through the Young Adult section, just casually trying to find something to read. I got my books and wen to the library check out and the person doing that job looked through my books and said to "Have you read the Daughter of Smoke and Bone series?". I was like uhm no. She says to me "By the looks of the books you're borrowing, I think you will like this series". And I'm so happy she suggested that I read it because I immediately fell in love with the first book. 
This series is very unique and real. 🙂 which probably captivated me into their world. Whats great about this book is that I learnt so much about Karou and Akiva that I never knew in the first two books. I learnt that there were other worlds beside Eretz and Earth. I learnt that Chimaera and Seraphim can unite as one and fall in love with each other. I also learnt that humans can withstand the paranormal and supernatural world. AND wishes can do come true 🙂
The storyline was on point. I was so confused with the Eliza part but then reading further on, I could see the connection between Eliza and the Seraphim. The war part was awesome!!! You can never have enough of fighting scenes within one book. hehe!! I also liked the quirky love stories within this book. For example Liraz 😉
OHHHH MYYYY!! 
I mean I don't know what to say apart from "I LOVE THIS".!! 😀
"Once upon a time, there was only darkness."