Goodreads Synopsis: Who are the Rat Queens?
A pack of booze-guzzling, death-dealing battle maidens-for-hire, and they're in the business of killing all god's creatures for profit.
It's also a darkly comedic sass-and-sorcery series starring Hannah the Rockabilly Elven Mage, Violet the Hipster Dwarven Fighter, Dee the Atheist Human Cleric and Betty the Hippy Smidgen Thief. This modern spin on an old school genre is a violent monster-killing epic that is like Buffy meets Tank Girl in a Lord of the Rings world on crack!
Collecting Rat Queens #1-5!
---
Writer: Kurtis J. Wiebner
Pages: 128
Issues: 1-5
My Rating:
---
MY THOUGHTS
Man these bad-ass chicks are fucking awesomee!!!!
RAT QUEENS GOT ME LIKE: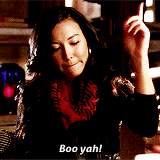 OHHH MYYY GOSSSHHH, Betty is just GODDAAAMMMNN CUUTTEEEE!
She reminds me of this little one:
Sawyer & Hannah got me like:
But on the other note, its like HURRY UP and get together!!
I just love this comic so so so so so MUCCCHHH!! Can't wait to read the next volume. The characters are just so understandable cause behind all that bad-ass, partying, 'don't care' mask, they all have a story/family/past they want to leave behind but are finding it hard to do, just like a normal young girl/adult.